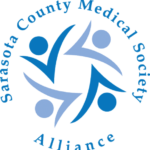 Sarasota County Medical Society Alliance (SCMSA)
Who we are
Our membership is open to spouses or significant others of physicians, or physicians themselves who live or practice in Sarasota County. We offer camaraderie and provide community service through education and advocacy.
What we offer our members
We offer opportunities to develop friendships through special interest groups, educational meetings and social events. We invite all members to serve and be involved at any level they choose. Family is important and our family picnic is a fun way for us to meet the families of our members. We keep in touch with our members throughout the year and strive to be there for them in happy times and sad.
We offer members updated information on state and national legislative activity that affects physicians and the patients they serve.
We provide our members with an annual directory of all members of both SCMSA and the Sarasota County Medical Society (SCMS).
Sarasota Medical Alliance Foundation (SMAF)
Alliance members are also a members of our Foundation, a 501c (3) not-for-profit Florida corporation. We have created important community projects. Currently, we continue with our prescription drug awareness initiatives as well as our website series on mental health awareness. We work together with and support other local non-profits with health-education causes.
We also offer scholarships to students pursuing higher education in healthcare fields.
We teach a one-of-a-kind, comprehensive babysitting course for teens in our community, held annually at the Selby Public Library. Our program, entitled, "G.E.M.S" (Good Emergency Mother's Substitute), has received numerous community accolades during the 24 years we have offered the course.
Our members and their spouses/significant others eagerly await our annual special event that benefits our Foundation and provides a fun-filled evening with friends and colleagues.
Please visit our Foundation pages at:  www.bewellsarasota.org and www.donate-mysmaf.org. 
Florida Medical Association Alliance (FMAA)
In addition to joining the SCMSA, we encourage you to join the Florida Medical Association Alliance (FMAA), which helps support and promote the well-being of physicians, their families, and communities statewide. Visit the FMAA website to learn more about our state Alliance.  myfmaa.org
2021-2022 Membership
The Sarasota County Medical Society Alliance will not be collecting dues this fall as we work on restructuring and planning for our future. Current members will automically be renewed for the 2021-2022 year.
We will continue to welcome eligible, new members for the 2021-2022 year. New member dues ($50 value) will be waived.
If you are interested in joining SCMSA, please email Membership Chair, Bonnie Silverman at bonnie.silverman@scmsa.org with the following information:
1. Your name (if physician, your specialty)
2. Spouse's/significant other's name. (if physician, his/her specialty)
3. Email
4. Cell
5. Home Address
6. Home Phone
Members interested in joining the Florida Medical Association Alliance may pay dues directly to the FMAA by visiting www.myfmaa.org/membership.
Bonnie Silverman, Membership Co-Chair
bonnie.silverman@myscmsa.org